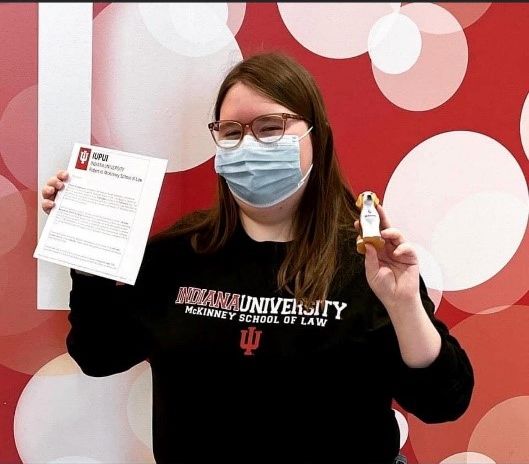 Meet IUPUI student Sara Berge.  Sara is a BA/JD student in the School of Liberal Arts at IUPUI who was just accepted to the IU McKinney School of Law!  As part of the BA/JD program, Sara was able to finish her undergraduate studies in Law in Liberal Arts in three years. She will transition to law school in Fall, 2022 where her first year of law school will fulfill the remainder of her undergraduate credit requirements.
Sara is a graduate of Cascade High School and started at IUPUI in Fall, 2019.  She learned about the BA/JD program during a high school tour of the IU McKinney School of Law.   Here is what Sara had to say about her interest in the program:
I had grown to love learning about trial advocacy through the Indiana Bar Foundation's mock trial program, but touring McKinney when I was 16 solidified my plan for the future. Ever since that moment I knew I wanted to go to IUPUI and participate in this program. I've known for a long time that I knew I wanted to be a lawyer, so applying for the BA/JD program my freshman year just made sense. – Sara
During her three years at IUPUI, Sara has been actively involved in many activities on campus.  She is a three year member of the IUPUI Mock Trial Team and currently serves as team Vice President.  She won an outstanding witness award at the 2021 Mock 100 invitational hosted in Indianapolis.  Sara is also an active member of the Pre Law Society.  She serves as a resident assistant in North Hall and serves on the North Hall Activities Council.  Sara is also President of the IUPUI Circle K International chapter.  When she is not busy at IUPUI, Sara serves as assistant coach the Cascade High School Mock Trial Team and has served as a counselor at Indiana Girl's State.  She is also past president of University Tower Council.
After law school Sara plans to practice criminal law in rural Indiana with the goal of promoting Criminal Justice reform and helping prevent overcrowding in prisons. She says "I grew up in rural Indiana, so pursuing this career feels like I am giving back to the community that has supported and encouraged me in all of my endeavors."
Sara had these final words for anyone interested in the IUPUI BA/JD program:
I would highly recommend this program to anyone that is passionate about a legal career and knows McKinney is a good fit for them. An accelerated degree is challenging and you have to make sure you are planning your life accordingly, but the support system within the School of Liberal arts and McKinney School of Law is there to help you succeed.  – Sara
Current IUPUI freshman can apply for the BA/JD program until March 1st.  High School Seniors accepted at IUPUI can also apply for the program.  If you are interested in learning more about the 6 year program for earning your bachelor's degree and your law degree, please contact IUPUI Prelaw advisor Professor Erin Engels at eengels@iupui.edu.
---