Posted on March 2nd, 2017 in
2017 NFL Scouting Combine
,
Student Work
by Mark Alewine | Tags:
Bo Jackson
,
Christian McCaffrey
,
Dalvin Cook
,
Florida State
,
Heisman Trophy
,
Indianapolis
,
IUPUI
,
Leonard Fournette
,
LSU Tigers
,
Mark Alewine
,
NFL
,
NFL Draft
,
NFL Scouting Combine
,
PAC-12
,
SEC
,
Sports Capital Journalism Program
,
Stanford Cardinal
By Mark Alewine | @MR_Alewine
Sports Capital Journalism Program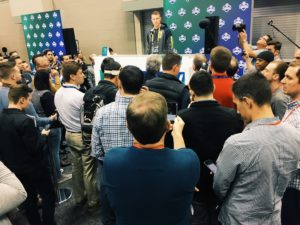 INDIANAPOLIS — The National Football League scouting combine is by its nature intended to be revealing. The process provides an unfiltered look at the future stars — or busts — of the NFL. For standout running backs Leonard Fournette of Louisiana State and Christian McCaffrey of Stanford, this reveal began to develop earlier than the rest.
Fournette and McCaffrey drew national attention last December after deciding to sit out their team's respective bowl games and prepare for the NFL Draft. The decisions of high-profile players on major-college teams were viewed as unprecedented. On Thursday, Fournette and McCaffrey stood steadfast by their decisions.
"I did because I was injured," Fournette said, who dealt with ankle problems all season. "It just needed time to heal. It's 100 percent now."
He went on to say that his decision was between himself and his coaches, and that head coach Ed Orgeron and his staff encouraged him to choose what was best for his future.
"They knew my risk," Fournette said. "It was a tough decision we had to make as a whole. I just dealt with it. I didn't go back and forth with them. At the end of the day, they're my coaches and I was still a student. They wanted to protect my future."
McCaffrey echoed the same sentiment, and praised his teammates and coaching staff at Stanford for their support.
"I have the best teammates in the world at Stanford, and coaches, honestly," McCaffrey said. "Every single one of them supported me, had my back, and I was very fortunate to have them there."
The decisions announced by Fournette and McCaffrey three days apart last December inspired a national discussion at the end of the 2016 college football season. The abrupt ending of such successful college careers raised the issues of the best interests of professional prospects and the role of loyalty in college athletics.
Fournette rushed for 1,953 yards and 22 touchdowns during his sophomore season at LSU in 2015. Even while battling injuries last year, he still finished with 843 rushing yards in seven games. Three of his eight touchdowns came during a 284-yard game against Mississippi. Fournette leaves Baton Rouge after three seasons with 3,830 rushing yards and 41 total touchdowns, four fewer than Bo Jackson, the 1985 Heisman Trophy winner from Auburn University, scored in a four-year career.
McCaffrey had a similar story, with dual-threat abilities that lit up the college football world as a sophomore in 2015 with 3,864 all-purpose yards and 13 touchdowns. He capped off a Heisman finalist season with a record-breaking performance in the Rose Bowl. McCaffrey's 368 all-purpose yards against Iowa set a Rose Bowl record and was the fourth-highest total for all-purpose yards in NCAA bowl history.
Like Fournette, McCaffrey spent time during the 2016 season dealing with injury issues. His college career ended with 6,987 all-purpose yards, an average of 183.9 per game, the most of any active Football Bowl Subdivision player.
Fournette and McCaffrey, who are projected to be two of the first three running backs drafted in April, can expect to have life-changing money riding on the evaluations and decisions to come in the next several weeks. The risks involved with playing in a bowl game have become too apparent.
After Notre Dame's Jaylen Smith was struck with a severe knee injury in the 2016 Fiesta Bowl, tearing two knee ligaments and suffering nerve damage, and Michigan's Jake Butt tore an anterior cruciate ligament in the Orange Bowl last December, draft-eligible players have become especially sensitive to the risk of suiting up for your school one last time.
Florida State's Dalvin Cook, who is projected to be an early draft pick as well, chose to play for the Seminoles against Michigan and finished as the Orange Bowl MVP. Cook rushed for 145 yards and had three receptions for 62 yards in Florida State's 33-32 victory. But despite putting in the extra weeks with his college team, Cook doesn't believe the lost time now puts him at a disadvantage behind other running backs.
"No, I don't feel like I'm at a disadvantage," Cook said. "Once I got started, I felt like I'm right where everybody else was. So no, I don't feel like I'm at a disadvantage at all."
Fournette and McCaffrey stressed the grueling process that led to the decision to skip the bowl game.
"It was a hard decision for me to sit out," Fournette said. "My coach asked me to make the right decision for yourself and your future. I cried….It was one of the hardest decisions I've had to make."
Decisions that are made on the first day of the NFL Draft on April 27 could help determine whether the premature ending of their careers will create a trend that threatens the credibility of the bowl system. The decisions do not appear to have affected their draft stock. Fournette is expected to be a top-15 pick, potentially the first running back to be selected. McCaffrey is seen as still working his way into the late stages of the first round.
"It was a career decision," McCaffrey said. "It was a man decision to try to protect my dream of playing and succeeding in the NFL."
---