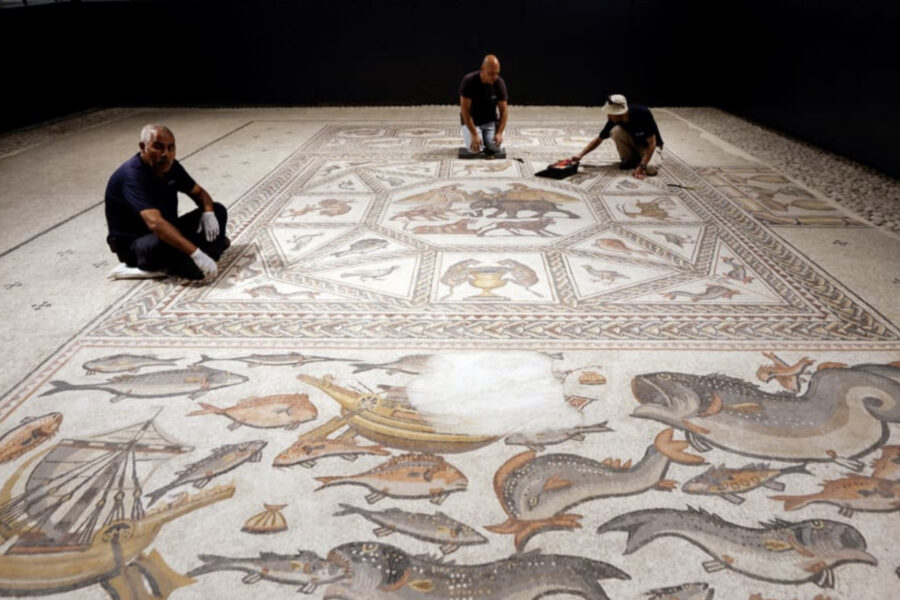 Archaeological games of "Duck, Duck, Goose" leave much to be desired.
---
[SETTING: Breakfast in the Palace of the Gods]
HERA, GODDESS OF MARRIAGE AND ZEUS' SISTER-WIFE-QUEEN (you read that right): So where were you last night?
ZEUS, KING OF GODS AND PERPETUAL HORN-DOG (shuffles papyrus scrolls nervously): I was getting a krater of wine with Apollo in Delphi. Hey, look at this: (reading) "An absolutely fabulous Roman mosaic from the ancient city of Lod (near Tel Aviv, Israel) is returning to a brand new home in a spiffy museum, after a world tour." Neat!
HERA: What a pathetic attempt to change the subject. Why would I care what the mortals are doing with their interior decorating?
ZEUS: Well, apparently this mosaic doesn't have any pictures of people on it, so the mortals think it was owned by a Jewish or Christian merchant, since those type of people avoid pictures of us Olympian gods. What's a Jewish or Christian merchant?
HERA: No idea, but they sound terrible. I'll have to smite them later for avoiding my image. How long did it take you to get back from Delos last night?
---
---
ZEUS: Not long, Leto asked Selene to give me a lift in her chariot.
HERA (icily): I thought you said you were in Delphi.
ZEUS: Um…
Share on Twitter, or Instagram, or really wherever you want.
---
---