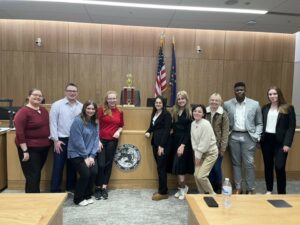 Students on the IUPUI Mock Trial Team spent the weekend arguing the civil case of Ari Felder v. Koller Campbell Air LLC in the new Marion County Justice Center in Indianapolis.
The IUPUI Mock Trial Team hosted the annual Mock 100 Invitational on November 12th and 13th.  Twenty-five teams from all over the country traveled to Indianapolis to compete in the Mock 100.  The event was judged by local attorneys, judges, and law students.
Mock Trial teams receive their annual case in late summer.  The teams prepare both the plaintiff and defendant sides of the argument for competition.  Teams compete in invitational tournaments leading up to the mock trial regionals beginning in February.  A Mock Trial competition round consists of two teams, each with three attorneys and three witnesses.  Attorney present an opening statement, case in chief, cross examinations and closing arguments.  Each witness is prepared by the attorneys to answer questions about the case.  Attorneys must understand the evidence rules and object as needed.  Each round has a presiding judge who rules on objections and one or two additional judges who score the attorneys and witnesses.
The IUPUI Mock Trial Team had an outstanding competition.  The team placed 3rd out of 25 teams.  Three students won outstanding attorney awards:
Sara Berge, Law in Liberal Arts BA/JD
Jacob Truman, Political Science & Law in Liberal Arts double major
Ethan Stevenson, Computer Science
The team is coached by Sydney Kadinger, alumni of the IUPUI Political Science program and an attorney with the Marion County Prosecutor's Office, Peyton Cole, attorney with the Hamilton County Prosecutor's Office and Quinn Weikel, Political Science alumni.
The students and coaches practice every Monday and Thursday from 6:00-8:00pm and compete in many events throughout the year.  While the IUPUI Mock Trial Team is already formed for this year, if you are interested in joining the team next fall, please contact Professor Engels at eengels@iupui.edu.  
---