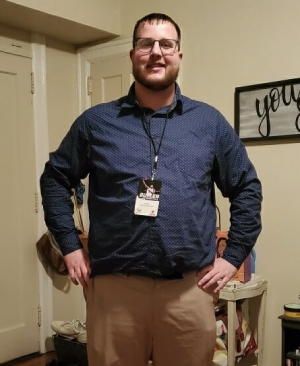 IUPUI Journalism alum Alex Burr
Alex Burr, a May 2020 graduate, has created a network of podcasts called The Running Hook. In addition to his own podcast, Burr's network has launched four other shows: Lynn-Sanity with senior Caleb Lynn; The Circle City Chatroom with Zach Griffith, B.A.J. '20, and Bret Sexton, recent IUPUI graduate; The Battleground with JD Hall and Bryce Shadday, both B.A.J. '20; and The Triple Option Pass with seniors Ryan Gregory and Devin Voss.
"I wanted to expand the network besides just myself because I know my friends are supremely talented, and that they bring their own particular set of skills that establish great audio content," said Burr. "All these guys are great talkers, and they're all comfortable within their own boundaries as well. I really can't imagine doing this without them, and it's fun getting to watch them grow every episode. They are all a delight and make my life easier knowing that they do the necessary preparation to make sure that the episodes are great."
Burr started his podcast network during the coronavirus shutdown.
"I was always planning on creating a podcast, but I just never had the time," said Burr. "I was in school, and I was working. However, both of those things got ripped away [due to the pandemic], and that was my impetus to create this podcast."
He found out that IUPUI gives students help with the recording and editing processes, so he has utilized their services to get his show up and running and to edit the intro. His podcast, The Running Hook, primarily focuses on the NBA, but he has explored other topics such as movies, music, the NFL, and more.
Burr decided on the name for his podcast and network while thinking about his high school basketball days.
"One of my favorite pictures of myself was me doing a running hook shot," he said. "I love puns, and I love basketball, so combining those things was easy."
He tries to base his podcast's content on what his guests are passionate about. The IUPUI Sports Journalism program makes for a diverse pool of potential guests for the show, Burr said. Burr has had two favorite moments on his show thus far. On his first episode, he had Lynn on the show. Lynn began to speak passionately about NBA player Buddy Hield, and his speech was both "hilarious and on-brand" for Lynn, according to Burr. It was the kind of passion Burr likes to have on his show. His other favorite moment was when he asked two of his guests, junior Jacob Keith and recent grad Griffith, how they felt about 'Forrest Gump,' and got two completely different answers.
"I was laughing hard through the discussion because of the furor the topic inspires," Burr said.
As far as plans for his podcast, Burr said, "I am trying to get game re-watch podcasts going with friends who haven't been on yet, and maybe invite some high school friends. All I know is I want to have fun making these, and so far I have."
Learn more about The Running Hook podcast here.
---