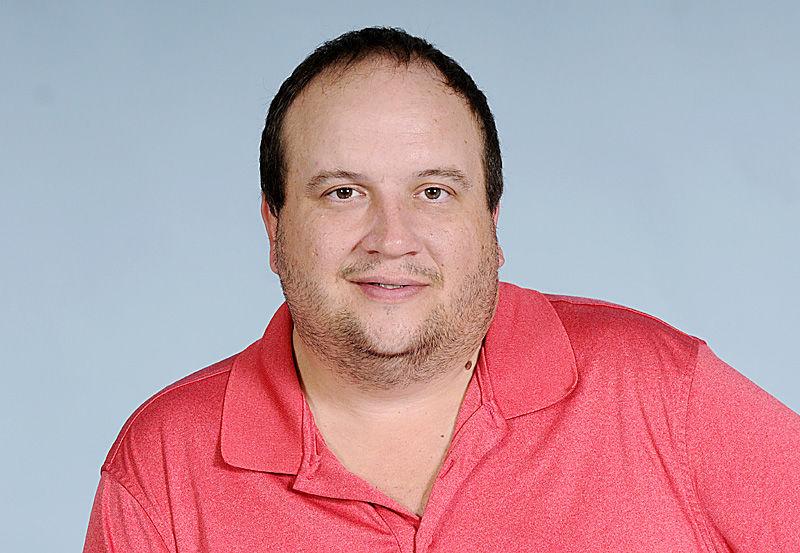 IUPUI Journalism alum Rob Hunt (Photo by Don Knight of The Herald Bulletin)
By Rob Hunt
I was submitting job applications after getting fired for the second time in my life. I had managed Pizza King for 20 years, Subway for two years, and a couple months at KFC. The owner of KFC had let me go because my experience and expertise demanded more money than he wanted to spend.
So, in October 2012, I was looking for employment in the field where I'd devoted more than half my life. After several applications, I stopped.
Managing restaurants wasn't what I wanted to do anymore.
I'd had enough of firing people, getting screamed at by customers, and getting home at 2 a.m. smelling like onions and feeling like grease.
I wanted to do something I was passionate about. In the middle of the night, I came to the realization that, halfway through my life, I wanted to change everything.
Epiphanies come at strange times. Mine came while sitting in front of a computer in my living room.
I've always loved sports, whether it was keeping score of football games while sitting at my Playskool desk as a child, hitting my head on my parents' chandelier when Keith Smart hit "The Shot" to win the 1987 National Championship for Indiana University, or traveling with my dad to Riverfront Stadium to see the Reds.
Through a cruel joke of nature, I wasn't granted the physical gifts to play the sports I loved. But I would always talk about it.
At that late hour, I began searching local colleges for sports-related programs. While browsing IUPUI's course and major selection, my mouse froze. Sports Journalism. Sure, I could talk sports, but could I write about it?
I had to discuss it with my family. My wife had returned to work to supplement our income. Now, with our oldest child preparing for college herself, I was asking my wife to be the sole breadwinner while I accumulated debt with the goal of entering a career for which I had no experience in an industry that was in a state of flux.
Compelling case, huh?
She thought briefly and said, "I think you should do it. It's what you were born to do."
I filled out financial aid applications and took a campus tour with other prospective students, most of whom were less than half my age. I began classes in the fall of 2013.
My first two years at IUPUI exceeded my expectations. I was a year from graduation with a GPA between 3.7 and 3.8. I had interviewed national figures, such as Michael Wilbon, covered the inaugural National College Football Championship, and had written for publications like Indianapolis Monthly. I'd met nationally recognized sportswriters like Bob Ryan, professional and collegiate athletes and coaches, and learned from some of the top journalists in the field like Malcolm Moran, formerly of the New York Times.
The realization that I'd made the right decision hit me during December 2014 while covering the Big Ten Conference football championship between Wisconsin and Ohio State in Indianapolis. I was on the field after the game, seeking an interview with one of the victorious Buckeyes while the crowd cheered, the players celebrated, and the confetti flew. I turned to a classmate who was also covering the game and said, "Less than two years ago, I was asking people what cheese they wanted or if they wanted their sub toasted."
And I couldn't stop smiling.
Rob Hunt is a reporter covering Madison Co.-area high school sports for The Herald Bulletin in Anderson, Ind. You can follow him on Twitter at @hunt_Rob.
---