Chris Lamb's latest book, Stolen Dreams: The Cannon Street YMCA All-Stars and Little League Baseball's Civil War (University of Nebraska Press), was published on April 1
Summary: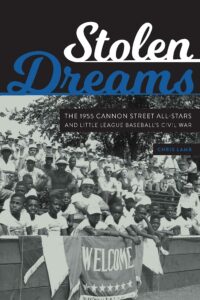 When the 11- and 12-year-olds on the Cannon Street YMCA all-star team registered for a baseball tournament in Charleston, South Carolina, in July 1955, it put the team and the forces of integration on a collision course with segregation, bigotry, and the Southern way of life. White teams refused to take the field with the Cannon Street all-stars, the first Black Little League team in South Carolina. The Cannon Street team won two tournaments by forfeit. If they won the regional tournament in Rome, Georgia, they would have advanced to the Little League World Series. But Little League officials ruled the team ineligible to play in the tournament because they had advanced by winning on forfeit and not on the field, denying the boys their dream of playing in the Little League World Series. This became a national story for a few weeks but then faded and disappeared altogether as Americans read of other civil rights stories, including the torture and murder of 14-year-old Emmett Till.
The story of the Cannon Street all-stars is about how racism scarred the souls of black children. The Cannon Street all-stars spent decades trying to forget what happened to them in 1955 and the last two decade or so telling people why their story matters and why they should be remembered–like the generations of other blacks who lived invisible lives not just in Charleston but elsewhere in America, particularly in the South. This story is part of the saga of centuries of bigotry in Charleston, where African Americans were whipped, lynched, and raped, where their lives were devalued, dehumanized, and forgotten, and how all of this shaped the city and its people, from the arrival of slaves in the 1600s to the murder of nine blacks at the Emanuel AME Church in 2015 and the removal of the statue of white supremacist John Calhoun in 2020.
The first chapter of the book was published on ESPN's website on race, sports, culture.
Chris Lamb is a Professor and Chair of the Department of Journalism and Public Relations, IU School of Liberal Arts at IUPUI
---